Американская стоматологическая клиника в Москве | US Dental Care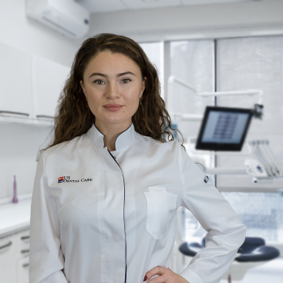 Education:
2008-2012
SOGMA
2012-2013
Internship at Moscow State Medical and Dental University named after Evdokimov with a specialty "Dentist of general practice."
2013-2014
Primary specialization in Evdokimov MGSU at the Department of Children 's Dentistry. Specialty: children 's dentist.
2015
Advanced training in Boston (USA)
ACHIEVEMENTS AND QUALIFICATIONS:
Madina Kokayeva has good experience and finds an approach to small patients. Various seminars and advanced training courses are held continuously.
Foreign language skills:
English – basic
Hobby:
travel, theater, dances