The missing teeth may be replaced by numerous procedures but though the ideal replacement as well as both aesthetic (natural look) and functional (durability) is made with possible through implants.
Thanks to modern solutions and scientific advancements in implantology and prosthodontics, today we have easy, absolutely safe and efficient therapy of teeth loss.
Implants replace roots of teeth and stimulate bones so that they prevent bone after a teeth has been removed.
What are Implants?
Implants are artificial roots made of titanium, that are surgically placed into the bone. Patients are delighted to see that the teeth attached to the implants have a natural look and help them give them a wonderful smile.
When do you need dental implants?
If you want to replace missing teeth without affecting the adjacent teeth.

As a solution for joint pain or bite problems due to teeth moving into missing tooth space.

If you need to support a bridge or denture in your mouth.

If you need to aid chewing or speech.

If you wish to restore or enhance facial tissues.
How do you get dental implants?
After taking x-rays, the implant will be surgically placed into the bone and permitted to heal and integrate itself for up to six months. You may also need an additional surgery, depending on the condition of the bone. The artificial teeth are made and fitted to the implants after they have several weeks to heal. After that your doctor will advise you on how to take care of your teeth - nothing complicated, just regularly visiting the clinic and maintaining good oral hygiene at home.

All-on-4®
Failing dentition is a very common condition and there is a great need for a wider variety of solutions to treat this diverse group of patients. It represents a global health care burden, and will continue to do so for the foreseeable future.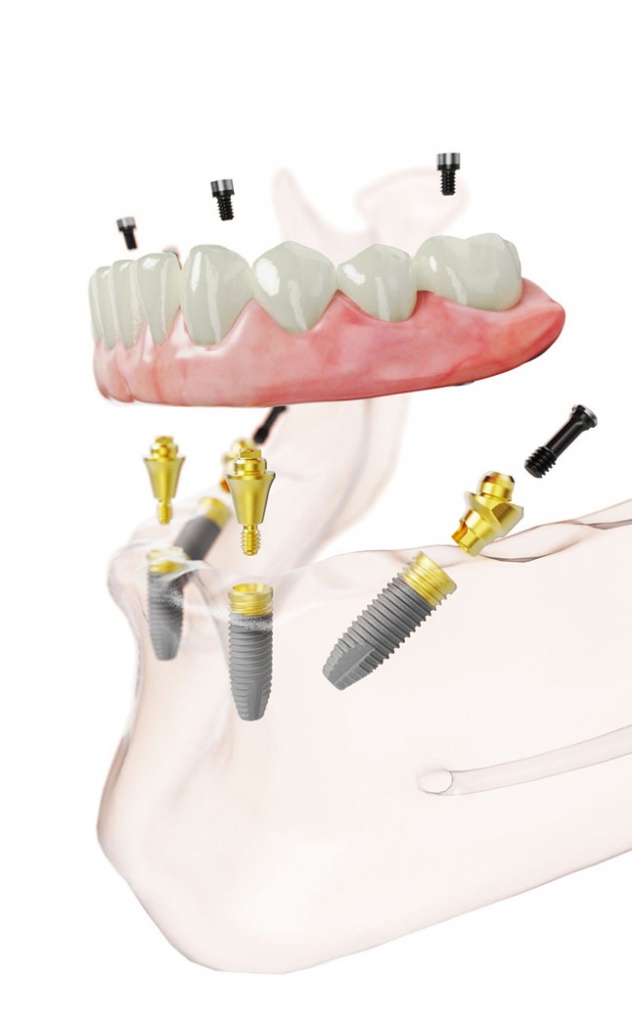 The demand for treatment extends to millions of edentulous people – more than 40 million in the Western world, and 250 million in Asia. Of the total population worldwide, around 6–10% are edentulous and even more are soon-to-be edentulous.
Even decades after dental implant placement became an established method for restoring quality of life, many of those most in need of help were unable to benefit.
With such patients suffering from moderate to severe bone resorption, finding adequate bone to place implants is a challenge. There are financial considerations too, as placing enough implants to restore a whole jaw could be cost-prohibitive for many patients.
A new solution was needed and Dr. Paulo Malo found it. In 1998, Malo successfully treated the first patient with the All-on-4® treatment concept.
Since then, hundreds of thousands of patients have been treated with the All-on-4® treatment concept using Nobel Biocare implants.
This makes it an attractive and potentially life-changing treatment option for patients.
Function
Aesthetics
Sense
Speech
Self-esteem
This is why 98% of patients would recommend the All-on-4® treatment, concept as one study showed.
Shorter time-to-teeth
Two key elements significantly reduce treatment complexity, the number of surgeries, and the overall treatment time:
Tilting of the posterior implants avoids the need for time-consuming bone grafting procedures.
Immediate loading with a fixed provisional prosthesis shortens time-to-teeth.
Lower costs
The All-on-4® treatment concept is not only the least time-consuming treatment option, but it's also the least costly in comparison with conventional implant treatment methods for the edentulous and soon-to-be edentulous jaw using two-stage surgery.
Why it's popular with patients
The All-on-4® treatment concept provides edentulous and soon-to-be edentulous patients with a fixed full-arch prosthesis on four implants on the day of surgery.